Friday, October 23, 2009
Mountaineers are celebrating their club's half century, with members having spent 50 years scaling peaks as far afield as
the Alps and the Arctic Circle - from their base in Lincoln. The Lincoln Mountaineering Club was formed in 1959 after founder member Brian Tinker placed a notice in the Lincolnshire Echo seeking like-minded people.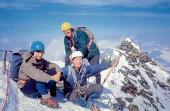 ON TOP OF THE WORLD: Lincoln Mountaineering Club have produced a book to celebrate 50 years of adventures. Pictured are members from the 1970s at
the Matterhorn Summit on the border of Switzerland and Italy.
And now the 62 member group, who make regular trips to the heights of Scotland, Wales and the Peak District, have
compiled a history of their society - with pictures of daring expeditions up crags and stories of camaraderie compiled
into a new journal.
Andrew Reynolds, 69, is the club's oldest member, and compiled the new book. "For many years it was just over 30 members but over the last few years it's gradually grown," he said. "The ethos is the same as it was 50 years ago but the emphasis has changed slightly - it's moved more towards climbing.
He said the friendship of the members is one of the main reasons for their success and in his case he even found love.
"Members help each other organise visits to mountain areas with Lincolnshire being rather flat.
"I've been a member since 1963 and met my wife through the club in 1968 - we've never looked back."
Thomas Oaks, 25, joined the club about two years ago, after having spent his youth seeing the enjoyment his father
John got out of being a club member.
"My dad joined in 1969 and I joined in 2007," he said. "As a youngster I was able to go away with him on occasion and see it was a good way to meet people and have a good time.
"The club is an excellent option for anyone that's interested in this sort of thing."
Mr Oaks now hopes he can go on to be a club leader and have input over some of the future peaks members will be conquering .

Reproduced from the Lincolnshire Echo with permission.